Hi, I just wanted to share this lovely motivational video, where you see people achieving their goals and reaching their dreams.
I want you to know that you too can achieve your goals and reach your dreams if you keep your mind and heart focused on them.
Listen you will run into many nay sayers.
They mean well, but they could get you off course.  On the other hand sometimes they are trying to point you to a better path to get to your goals and dreams.  Guess, you have to be able to discern this.  It is pretty obvious though when they are sooo negative, that they might have lost their own dreams and want to take you with them.  Do not let them steal your dreams  You know in your heart and only you know.
Ofcourse, for me I  believe in God and I know He has a plan for me.
I guess, some of you might not understand and some of you might understand this kind of relationship with an all loving God who wants what is best for you.  Actually, He wants what is best for your soul.
And we should also want our souls in the best place too.  So, draw from Him before you listen to nay sayers, He will guide you, if you let Him.
And seriously you have gifts & strengths you can share and further develop
……….find your gifts and strengths and use them in achieving your goals and finding your dreams.
You really can do this
and I have seen folks  have their goals blown away!   Or I mean blown  their goals  right into their dreams.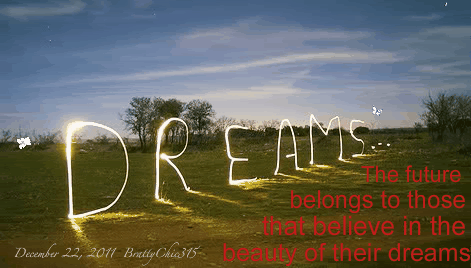 WELL, get all in with your heart and soul and join me in fulfilling our goals and dreams together.
What are your goals? You can start with these and move on!
Self Respect, Yep start loving yourself.
Dictionary.com says self respect is
the sense of one's own value or worth as a person; self-esteem; self-respect.
With this and integrity  the rest will fall into place. Because with healthy self love, you can have healthy love for others.  Which is good for you and them as you can learn from each other and grow.
So, how did you like the lovely motivational video which shows that goals and dreams can be met?  Comment below and share your thoughts.